The previous night, our hotel was right on the San Juan River, which we'd hoped to swim in, but the current looked much too strong for us--not to mention we tend to be pretty tired by the time we make it to the hotels. We ate breakfast at the hotel in the morning and then stopped at the rock formation that is responsible for the name of the town--Mexican Hat. This impressive "terrace" has clearly earned its name. I also spotted another formation that I thought resembled a rabbit.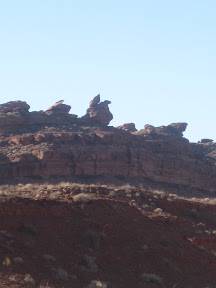 Then we made it to Goosenecks State Park, which is also named for its appearance. Here we have an "incised meander," which forms as the Colorado plateaus rises and the discharge of water increases from precipitation.
Before stopping at Natural Bridges, we headed up a steep plateau via winding, dirt road switchbacks that offered impressive views as we stopped along the way in two places for picture taking. As you'll see in the last picture, sometimes the views are so unbelievable, even someone like me, who is normally somewhat afraid of extreme heights, has little difficulties going straight to the edge.
When we arrived at Natural Bridges National Monument, we first watched an informative video at the visitor center about the 3 impressive rock formations, formed by rivers. Then we arrived at the first formation,
Sipapu.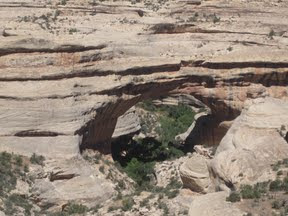 Then to Kachina...
And finally, to Owachomo, where we went on a brief hike to visit the bottom of the desert. As most of you know, hiking is one of my favorite pastimes, so you can imagine I relished in the chance to go off and explore on our own. I don't know if it's because this is sacred Hopi grounds, or simply the park's natural splendor, but I felt an increased sense of tranquility at this particular park.
On the drive to Arches National Park, we were in awe as we spotted the Colorado Rocky Mountains in the distance.
Then we arrived at Arches, where we learned that natural bridges are caused by rivers, and arches by joint movement and weathering. We stopped at several viewpoints (one of which was not an arch but an astonishingly Balanced Rock) and then were given some time to go off on another hike to stand beneath several massive arches. This park was the most crowded we've visited so far. Many if not most of the tourists at the parks tend to be foreigners. While I love that people come from far and wide to view our national parks, I wish that more Americans would come out and see them.