After breakfast at a Mexican Restaurant near our hotel, we drove through sprawling green pastures with dark plateaus in the distance as we headed toward Bryce Canyon. We passed by what I thought at first were deer, but actually were antelope.
Before Bryce Canyon, we stopped at Red Canyon, mainly to use the restrooms at the visitor center, but also for a preview of what we could expect from Bryce.
Finally, we arrived at Bryce Canyon, where the first stop was to pullover and check out a field of prairie dogs, a species that is actually endangered from farming years ago.
Our professor decided the best way to view Bryce is from the top and then drive down to the bottom back where we started, stopping along the way at each lookout. The view from these lookouts is absolutely magnificent, jagged terra cotta colored rocks are juxtaposed with giant green conifers.
The top is "Rainbow Point" which reaches 9,115 feet above sea level.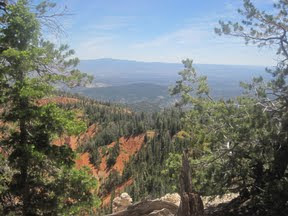 Our next stop was Birch Canyon at 8,750 feet.
Then the drive goes up a little bit to Ponderosa Point at 8,904 feet, where we spotted a crow who seemed unphased by our presence. The hoodoos and pinnacles (the tall, think rocks that either come to a narrow point or have a sort of mushroom top respectively) here are impressive in their gravity defying formations.
Then we stopped at the aptly named Natural Bridge lookout at 8,627 feet.
After leaving Bryce we drove nonstop through Kaibab National Forest, a forest of towering conifers atop rolling hills.
Finally, Grand Canyon. We arrived at the North Rim and were given some time to venture off and explore. The English language does not have words that are capable of describing this place's splendor. One simply has to see it for himself.
Before leaving the park, we stopped at Imperial Point, another impressive lookout where we were first given a geology lecture and then checked out the impressive sights.
One of the participants on this trip is from Germany (Daniel, on the left) asked if I was proud to be an American considering how beautiful our country is. We Americans had nothing to do with this beautiful land. So I'm not proud; I'm incredibly grateful for it's existence and preservation.