After breakfast at a local mom-and-pop shop, we embarked on an eventful visit of
Rhyolite Ghost Town
in Nevada. This abandoned gold mining town prospered in the early 1900s. "Rhyolite" is the name of a type of magma that is 70% silicon, thus making it highly explosive and suitable for mining.
While we checked out the abandoned structures, we saw jack rabbits, lizards, and even a rattlesnake.
The Deal With the Rattlesnake:
I was walking toward one structure and the girl I was walking with (who also happens to be named Amanda) pointed it out--it was slithering sideways exactly in the direction in which I was walking! Startled as I was, I was still compelled to take some pictures as it slithered away from us into some bushes, but when it sounded its rattle loudly one last time, we all screamed and headed back to the van in a mad dash. Needless to say, I will be forever grateful to my new friend for pointing out the deadly reptile.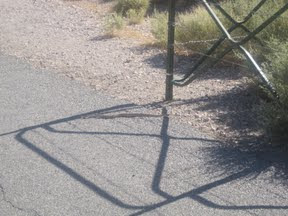 We traveled back through death valley again to see some sights we didn't have a chance to view the previous day. We made many "geologic stops," discussing the seismic activity in the location of Death Valley and how it has contributed to its existence. Fault scarps, an area of land that is uncovered when a fault warps, were a major topic of discussion.
We also visited the Borax Mining Museum. Borax--yes, the detergent--has been mined in death valley for the area's prevalent nitrates found in the sediment.
We passed an interesting rock (basalt) formation on the side of the road and later a coyote. I was somewhat upset by how obvious it was that this animal--normally nocturnal--was clearly coming toward our vans expecting food. This learned behavior his dangerous to his livelihood.
We stopped at Devil's Golf Course--a popular salt pan on the valley floor. We even found an actual golf ball!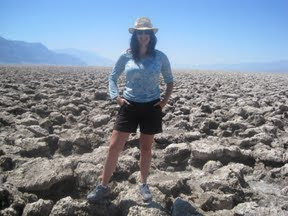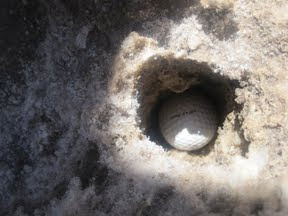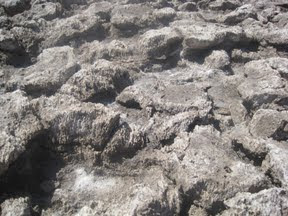 Along route 178, we witnessed a unique display of the power of plate tectonics, a "welded tuff" (the black part in the photo below). This phenomena is caused by cementation of volcanic ash particles as a result of extreme heat.
We had about 4 hours on the Las Vegas strip for dinner and sightseeing. Several of us went on the indoor/outdoor roller coaster at New York New York Hotel and Casino--definitely worth the $14! This extremely fast roller coaster offers breathtaking views of the town as well as thrilling loops. I hadn't been on a roller coaster in years, but it was just as fun as when I was a kid. After, I enjoyed coconut shrimp at Rainforest Cafe.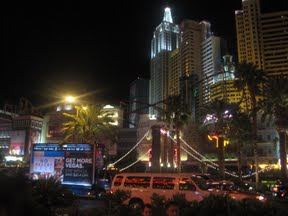 I'm glad I got to see Las Vegas, but it's definitely not a place I'm dying to get back to. The constant solicitation for prostitution at every single corner was entertaining at first, but obnoxious after a few blocks. The crowds were frustrating, and there was very little for someone like me, who doesn't drink, gamble, do drugs, or have any need for a prostitute, to do. Nonetheless, I'm glad I got to see the strip in all it's glittery glory. Thankfully for this forest-loving wanderer, what happens in Vegas stays in Vegas.