After eating breakfast at CoCo's in Barstow, we were in for a 2.5 hour drive to Death Valley National Park. During the ride, we were given worksheets asking questions about the geology and characteristics of deserts--specifically the Mojave Desert where Death Valley is located. It was nice to see how we all worked together in the van to come up with the answers for the complex questions, even collaborating with the other van via walkie talkies. Let's just say I'm thankful that I chose to be in the van with the professor and several knowledgable geography majors.
Our first stop was along Route 127, where we discussed volcanic ash found in the area that traveled thousands of years ago all the way from Yellowstone Volcano--this ash was also found as far as Charleston, South Carolina. Stepping out of the van, at around 10am, the heat was immediately apparent, although the temperature was still about 20 degrees less than it would be later in the day--which would be a high of about 120 degrees.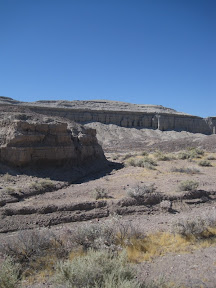 Then we traveled on to stop at another stop along Route 178, where Lake Manly once occupied the area millions of years ago, the lakes fossil shores can still be seen by stratification along the surrounding elevations.
As we drove on we observed Mormon Point, one of the many alluvial fans that rest along the mountainside, almost as if supporting its massive weight. This one in particular is noted for its size.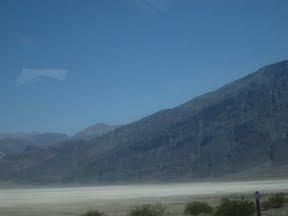 We began observing vast stretches of what appeared to be white sand. We learned that these "salt flats" occupy much of the desert because as the very little rain that the Mojave does receive runs off the rocks and mountains collecting salt, the water evaporates, and the impressive landscape of what almost looks like snow is the result. To witness this up close, we stopped at Bad Water Basin where sea level is marked 282ft from where we stood (2nd picture below--click the picture and look near the center for a small sign).
Finally after a morning roaming about in temperatures nearing 115, it was time for lunch. We stopped at Furnace Creek Visitor Center for a much needed buffet. We had some time to check out the gift shop, where many of us (me included) bought small gifts and postcards. Then we spent a brief time at the visitor center, where I as able to get my Passport to The National Parks stamped.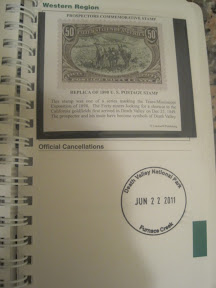 Our next destination was the most impressive of the day. We grew curious as we drove up steep inclines and numerous switchbacks. Finally, we arrived at Dante's View, an impressive vantage point from 5,475 feet. The temperature of a mere 97 degrees at this elevation was refreshing! Words are in adequate to describe the view's wonder and photos hardly do it justice.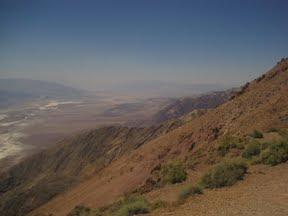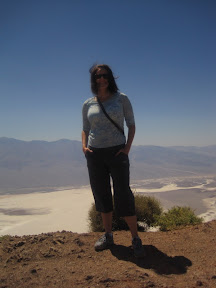 Our next destination was Artist's Pallete, an area that boasts a wide array of colored rock with impressive greens, reds, and beiges juxtaposed with dark volcanic rocks.
Our final destination was Zabriskie Point, an area where we viewed drainage patterns (specifically termed "Dendritic" drainage patterns, named for their tree-like appearance).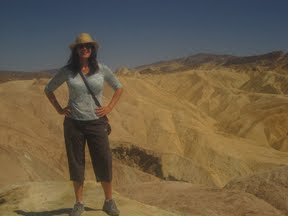 Finally we arrived at the California and Nevada border, where we stopped to take pictures and stand with one foot in California and the other in Nevada. These manmade boundaries seem arbitrary after a day of observing what the Universe has created on Its own.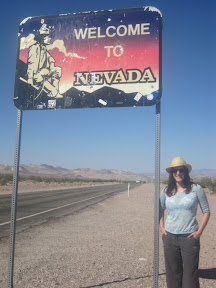 We spent the night at Stagecoach Hotel and Casino in the quaint desert town of Beatty, Nevada. Not surprisingly, we all jumped right in the pool upon arrival and then checked out the casino and gift shop before dinner at the hotel.